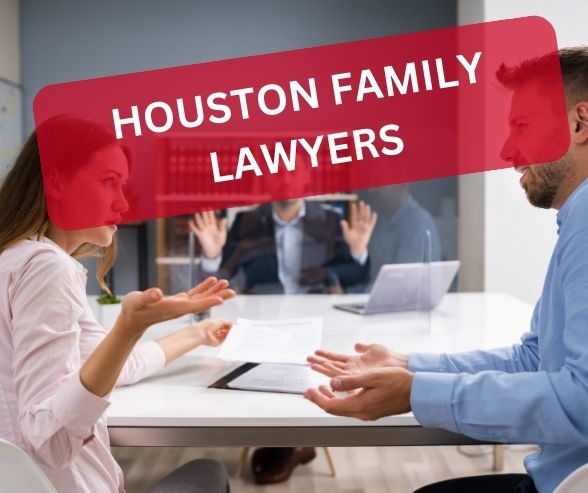 Our Houston family law attorney has experience in all facets of Texas Family Law. We will guide you through every step of your Divorce in the Harris County Court System. We strive to reduce your stress and anxiety as you navigate the Harris County Family Court System. Call (832) 410-8935 to speak to a Houston family lawyer today.
We help family law clients with:
Whether your divorce is extremely complex, or only involves one of the above, we will ensure that you are always informed, and your legal rights are our number one priority.
Houston Family Law Attorney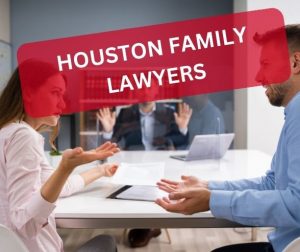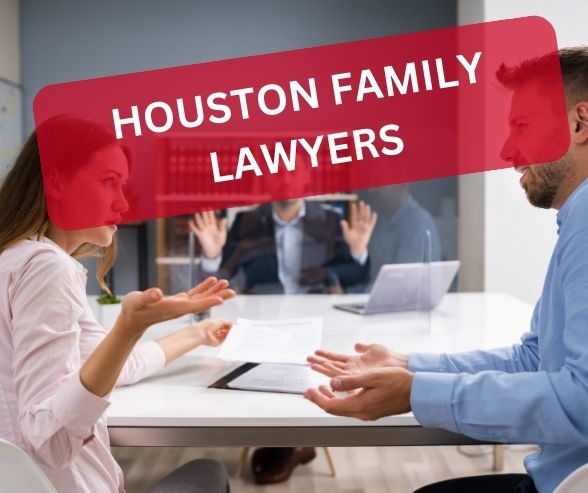 Are you a Texan looking for expert help navigating through family law issues? If so, look no further than our Houston Family Law Attorneys. Our experienced and knowledgeable family lawyers are here to provide comprehensive legal solutions which will suit all of your needs.
We provide personalized legal advice with the goal of achieving successful outcomes in all matters related to divorce, child support/custody/visitation, alimony, modification actions and other complex family matters.
Whether it is an informational consultation or a long-term litigation process our attorneys have been proudly serving Texans for years. Rest assured that our team strives to stay up-to-date on the ever changing laws associated with Texas family law so that we are able to best advocate for clients as well as protect their interests throughout their time spent working with us!
Best Family Law Attorney in Houston – FREE CONSULTATION?
When it comes to matters of family law, choosing the right attorney can make all the difference. That's why some people like Dustin Sanchez think that we are the best family law attorney in Houston.
Our team has extensive experience in handling a wide range of family law cases, from divorce and child custody to adoption and paternity disputes.
We understand that these legal issues can be emotionally challenging, which is why we're committed to being compassionate, responsive, and dedicated to achieving the best possible outcomes for our clients. When you choose us, you can rest assured that you'll have a skilled and experienced advocate in your corner every step of the way. So why settle for anything less when it comes to your family law needs? Choose the best and schedule a consultation with us today.
Houston Family Lawyer Services Provided
As a family lawyer, I understand that every family is unique and has their own set of legal needs. That's why my team and I provide a range of family legal services to help our clients navigate through their unique circumstances.
Whether it's divorce, adoption, custody battles or property disputes, we are here to provide compassionate and knowledgeable guidance throughout the legal process. Our goal is to help families reach a fair and just outcome that benefits everyone involved. With our years of experience, we understand the complexities of family law and are dedicated to finding the best possible solutions for our clients. Let us be your trusted legal partner and help you through any family legal matter you may be facing.
See also…Definition of Uncontested Divorce.
Our Philosophy on Divorce & Family Law Client Representation
At our law firm, we understand the importance of family and the sensitive nature of family law cases. As a family lawyer, we take a holistic approach to client representation, ensuring our clients feel safe, heard, and understood throughout the legal process.
Our philosophy is rooted in compassion, honesty, and utilizing our experience to achieve the best possible outcome for our clients. We strive to build trusting relationships with our clients and prioritize open communication every step of the way. At our firm, we recognize that each case is unique, and we tailor our approach to fit the specific needs and goals of our clients. We take pride in our ability to provide dedicated and effective legal representation, while also supporting our clients through what can be an emotionally challenging time.
Understanding the Texas Divorce Process
As a family lawyer practicing in the state of Texas, I understand how complicated and emotional the divorce process can be. It's important for those seeking a divorce to understand the legal procedures and requirements involved. In the state of Texas, couples can file for either a fault or no-fault divorce.
A fault divorce means that one spouse is claiming the other is responsible for the breakdown of the marriage through adultery, cruelty, or abandonment. In a no-fault divorce, neither spouse needs to prove fault, and the reason for the divorce is simply "irreconcilable differences." Regardless of which path is chosen, spouses will need to negotiate important issues such as property division, child custody, and support. As a reliable and experienced family lawyer, I can guide you through this difficult and complex process, ensuring that you are fairly represented and your interests are protected in court.
How to Prepare for a Custody Battle
As a family lawyer, one of the toughest cases I've handled is a custody battle. It's a stressful and emotional time for both parents involved. However, preparing for a custody battle can make all the difference in the outcome of your case.
One of the most important things you can do is to document everything. Keep track of any communication between you and the other parent, including emails, texts, and phone calls. It's also essential to gather any evidence that supports your case, such as witness statements or medical records. Remember to prioritize your child's needs and interests, and be willing to make compromises if necessary. With the right preparation and mindset, you can increase your chances of achieving the best outcome for you and your child.
Tips for Successfully Negotiating Child Support
Negotiating child support can be a difficult and emotionally charged process, but it's a necessary step for many parents. As a family lawyer, I've seen firsthand the importance of coming to an agreement that not only provides for the child's needs but also works for both parents.
One of the most effective tips for negotiating child support is to stay focused on the child's best interests, rather than the parents' feelings towards each other. It's also crucial to have a clear understanding of each parent's financial situation and to gather documentation to support your arguments. With a calm and professional approach and a willingness to compromise, parents can reach an agreement that provides for the needs of their child and eases the burden on both parties.
Our Best Family Law Attorneys in Houston try to provide families with the highest level of legal representation possible. We understand the sensitive and often difficult family legal matters that come up, and we strive to work hard to give our clients all the tools they need to achieve a positive outcome.
From divorce proceedings, mediation and reconciliation, to child custody battles and more, we are here when you need us. With our extensive experience in family law as well as deep knowledge of the Texas court system, we can help you navigate these important decisions with confidence. Most potential clients want to put their trust in the Best Family Law Attorney in Houston and let them take some of the load off their shoulders so they can focus on getting through this difficult time with stoicism, strength and grace.
Texas Divorce & Family Law
The Texas Rules of Civil Procedure & the Texas Family Code will govern your divorce proceeding, along with the Texas Rules of Evidence and the Court's Local Rules. Please keep in mind that a completely uncontested Texas divorce will not be finalized until the 61st day from the date of filing. More complex cases will take even longer. We will ensure that your divorce is prosecuted in a timely manner.
What to Expect During a Harris County, TX Divorce
You will need to file a petition for divorce.
You will need to serve your spouse with the petition for divorce.
Your spouse will have 20 days to respond to the petition for divorce.
If your spouse does not respond, you can file a motion for default judgment.
If your spouse does respond, you will need to attend a mediation session.
If you cannot reach an agreement during mediation, you will need to attend a trial.
During the trial, each side will present evidence and testimony.
The judge will make a decision and issue a final divorce decree.
Once the decree is issued, you are legally divorced.
You can then remarry if you wish
Call 832-410-8935 to speak with a Houston family law attorney.
Houston Family Lawyers FAQ
How Much Does A Family Lawyer Cost in Texas?
A family lawyer in Texas typically costs between $200 - $2,000 per hour. When it comes to legal matters involving family issues, it's not surprising that one of the first questions that come to mind is, how much will it cost? The answer, unfortunately, is not a simple one as it can vary depending on several factors. Factors such as the complexity of the case, the location of the family lawyer, and the scope of services needed can all play a role in determining the final cost. However, as a general rule of thumb, family lawyers in Texas can cost anywhere from $250 to $450 per hour on the low end. Although it may seem steep, investing in a qualified family lawyer can save you money and headache in the long run.
How Can I Get Full Custody of My Child in Texas?
You can get full custody of your child in Texas in a few different ways. As a parent, your top priority is the well being and safety of your child. Sometimes, obtaining full custody may be necessary when it is in the best interest of your child. In Texas, the court will consider several factors when determining custody, including the child's emotional and physical needs, the stability of each parent's home environment, and each parent's ability to provide for the child. To increase your chances of obtaining full custody, it is essential to work with an experienced family law attorney who can guide you through the process and build a strong case. Remember, the court's ultimate decision will be based solely on what is best for your child, so it is crucial to prioritize their needs throughout the legal process.
Do Family Lawyers Offer Free Consultations?
If you're in need of a family lawyer, you may be wondering if they offer a free consultation. The good news is that many family lawyers do offer a free initial consultation. This can be a great opportunity to meet with the lawyer, discuss your needs and concerns, and get a sense of their approach and expertise. During the consultation, you can ask questions and get a better sense of what your legal options are. Keep in mind that not all family lawyers will offer a free consultation, so it's important to do your research and find one that fits your needs and budget. Whether you're dealing with a difficult divorce or custody battle, having the right lawyer on your side can make all the difference.
Who Pays Legal Fees for Child Custody Cases?
Typically both sides will pay legal fees for child custody cases in Texas. Child custody cases in Texas can be complicated and challenging, and one question that often arises is who will be responsible for the attorney fees. Generally speaking, each party in a child custody case is responsible for covering their own legal costs. However, under certain circumstances, the court may order one parent or the other to pay some or all of the other party's attorney fees. This may occur if one parent has significantly more financial resources than the other, or if one parent engages in behavior that is deemed to be both unreasonable and unnecessary. If you are involved in a child custody case in Texas, it is important to understand your rights and obligations when it comes to attorney fees. A qualified attorney can help you navigate these complex issues and ensure that your interests are protected throughout the process.